Time: 1Hours Cost: $20.00 Difficulty: Easy
I am sure, like us, you have read about all of the ways to grow potatoes in garbage cans or plastic tubs – and we wanted to see if we could adapt it to our garden in a more natural way. By natural – I mean a more pleasing arrangement of wood that plastic.
And so came about the potato crate experiment. Utilizing a few homemade wooden crates created from non-treated pallet wood – we trialed the growing of potatoes "container style" – and were we ever surprised with the results!
Not only were they a cinch to plant and maintain – we actually had a larger harvest that our traditional row-grown potatoes – in about 1/20th of the time it took to plant and maintain our "regular" method.
We were hooked! And for this year – expanded on the idea to create some larger inexpensive growing crates from scrap lumber.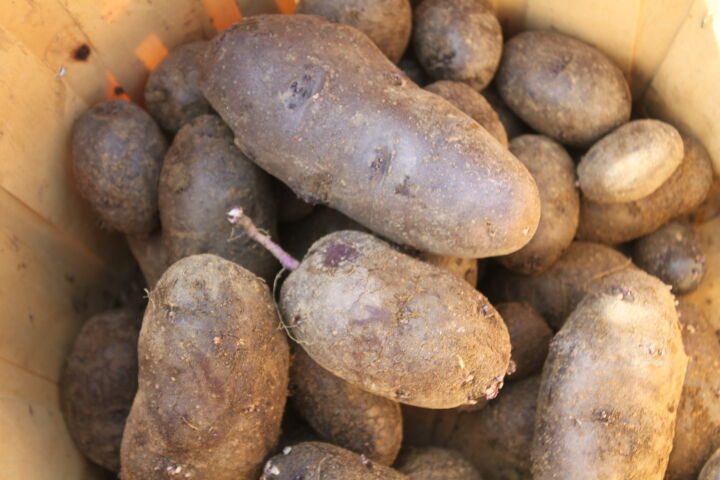 The Crate Method of Growing Potatoes…
Anyone who has ever grown potatoes knows that the key is to keep soil mounded around the tops of the plants as the season progresses. It can be tedious work – not to mention it can be difficult to find enough soil to keep mounding up the rows. However – with the crates – "hilling,"or covering up potatoes, is as easy as throwing a few inches of soil mix on top of the growing potatoes.
And that soil mix is the crucial difference when it comes to growing vertically. Although you could use all garden soil – it would not only be heavy – but probably hard to find enough quantities on hand to fill We found last year that our potatoes grew extremely well in a "lighter" mixture of straw, shredded leaves, compost and soil – not to mention it was easy to shovel into the crates as needed.
We made our mix from 4 parts shredded leaves/straw – and one part each of garden soil and compost, and it worked beautifully. If you do not have enough compost on hand – you can use a bit more soil in its place – it will just be a little heavier to work with.
The crates work really well because the slats allow a bit of light through as the plants grow to the top – yet still are strong enough to keep the soil mix in place.
Planting The Crates:
Planting the crates are a breeze! Fill the bottom with a few inches of straw, leaves and soil – and place in your potato cuttings with the eyes up. You can space the potatoes in this method a little closer than traditional row plantings. Then cover them with a few more inches of the mix – and planting is finished! Last year we – had our experimental crates planted in about 5 minutes. A far cry from the time it takes to plant them in traditional rows.
Maintaining
Once your potatoes begin to grow – then it is time to begin to add your mix of straw, leaves, soil and compost. Let the green foliage of the potato plants get about 3 to 4″ above the soil line – and then place in more mix until it just about an inch below the leaves. Continue this as long as the plants continue to grow – and new potatoes should form along the roots below.
Harvest
This is where the crates really pay off. Depending on where you live, usually in mid to late summer (late July for us in Ohio), the tops of your potatoes will begin to brown off. At this point – let them die off a few more weeks – and then simply lift up your crate – and sift through the soil mix to harvest!
Compared to the digging of a traditional harvest – the crate pick-up and harvest is almost too good and easy to be true – not to mention you won't damage any of the potatoes with a shovel having to dig through hardened soil.
Our Crates
Last year we used a small set of leftover straw bale garden crates we had made that were 36″ long x 24″wide x 18″ high. The smaller crates are perfect for planting and growing smaller quantities of potatoes. With those – we were able to plant a few pounds of potatoes, and harvested around 25 lbs. of potatoes from each crate.
For our expanded trial this year – we created a few larger crates that are 8′ long x 24″ wide x 18″ high using the same technique. That size should allow us enough room to plant up to 10 lbs of potato cuttings in each crate – and hopefully harvest 75 lbs. from each!
You can see how we made our crates at the bottom of our article on our website: http://oldworldgardenfarms.com/2015/04/10/growing-potatoes-with-homemade-potato-crates-vertically/
Jim and Mary
Old World Garden Farms
Material I used for this project:
Wood for crates   (Home Depot)
Soil   (Home Depot)
Straw   (Farm Supply)
Compost   (Garden)