Time: 2Hours Cost: $55.00 Difficulty: Easy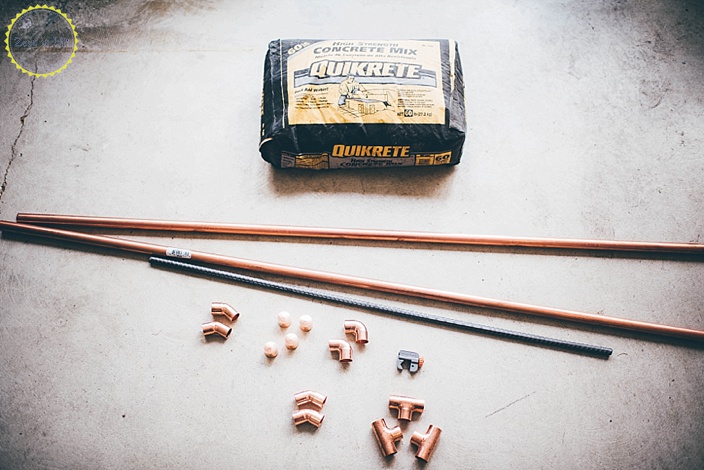 Supplies:
Quikrete
water
2 pieces of 6′ M copper piping (M is easier to cut) (1″ width)
3′ length of rebar 
pipe cutter
hammer
3 T-connectors (1″ width)
2 elbow connectors (1″ width)
4 45-degree connectors (1″ width)
4 end caps (1″ width)
adhesive for metal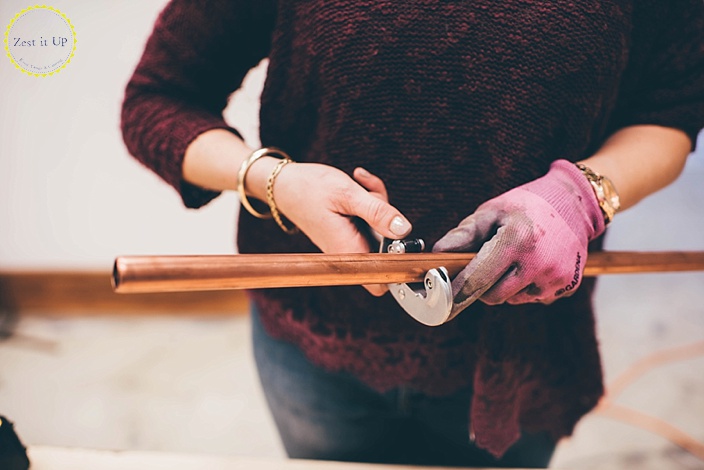 Cut List:
2 pieces of pipe 5″ long
2 pieces of pipe 7″ long
2 pieces of pipe 10″ long
4 pieces of pipe 3″ long
Note: upright stand can be cut to however tall you want your hose storage to stand.
I truly call this whole process "Legos for adults!"  Start by making your cuts using the crazy easy-to-use pipe cutter.  Basically, measure and then clamp and twist until the cut goes through.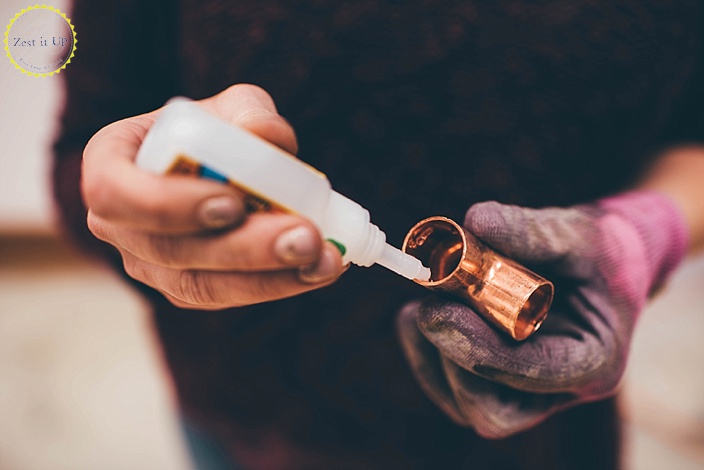 Now, begin your "Lego" building with a T-connector and your two 5″ pieces of pipe.  Using your adhesive, create a ring of glue on the inside of your T-connector.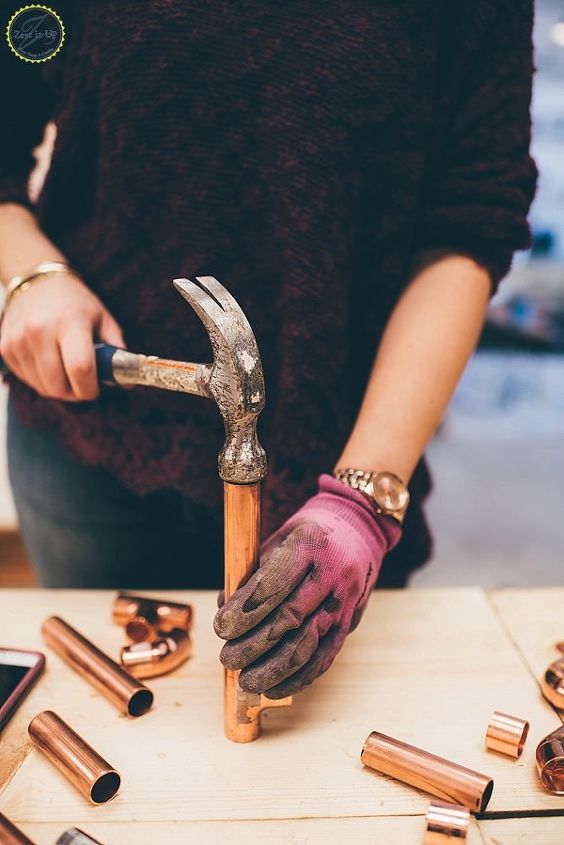 Using a hammer to make things snug, connect the two pieces of 5″ pipe to opposite sides of the T-connector.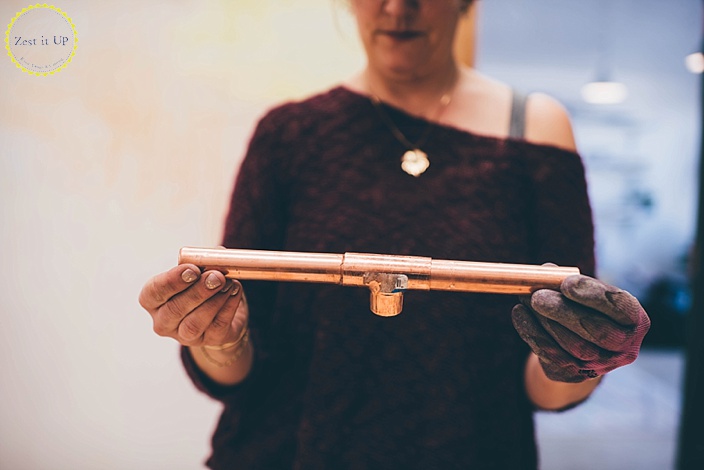 Now repeat the adhesive step with the other two T-connectors, attaching them to either end of your 5″ pieces.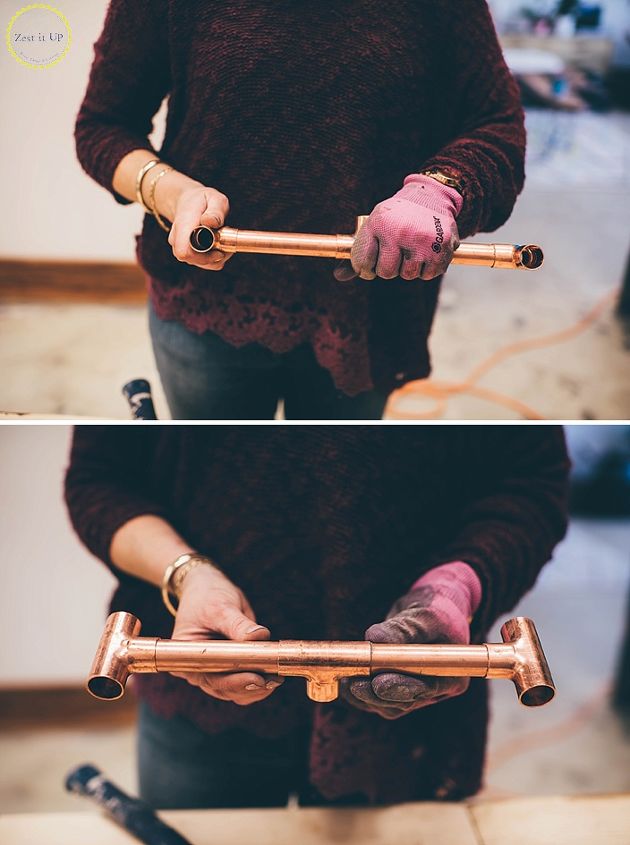 Now it is time to use the four 3″ pieces that your have cut.  Using the adhesive, insert them into either end of the T-connectors at both ends.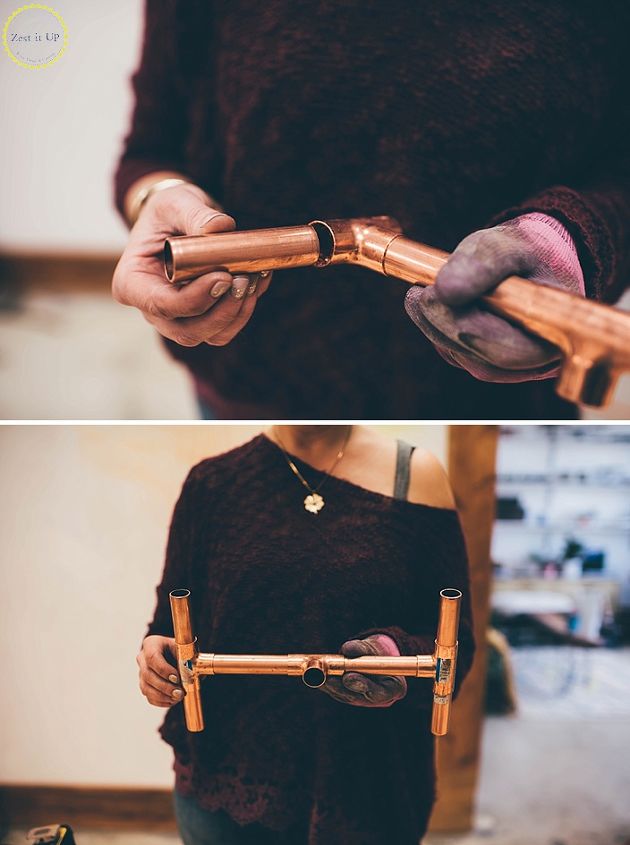 Are you still with me??  I am telling you…think Legos. 
Now, grab your two 45 degree elbows and your two 90-degree elbows and attach them to your four 3″ pipe pieces.  You will have one side with two 90-degree elbows and one side with two 45-degree elbows.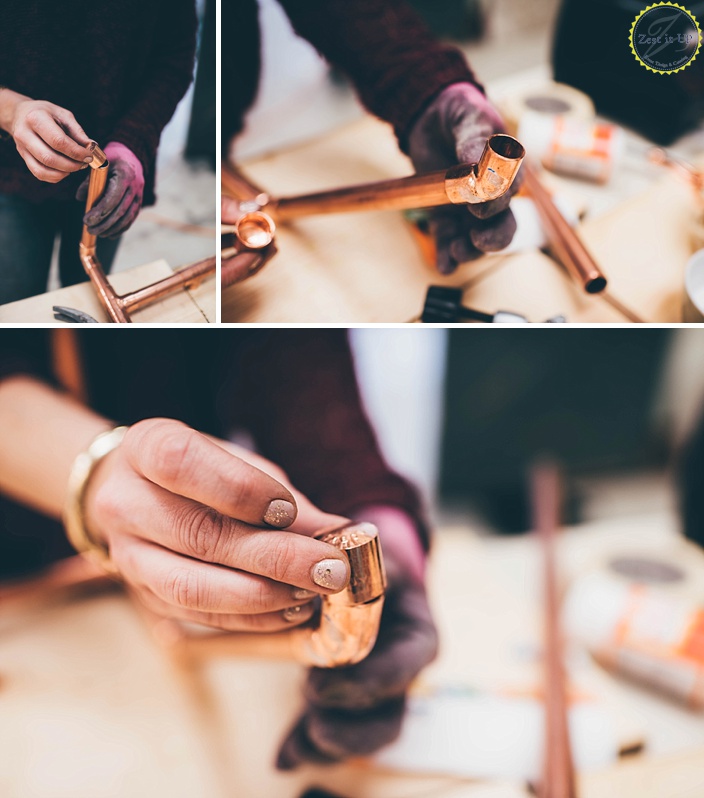 On the 90-degree elbow side, connect your two 7″ pipe pieces.  On your 45-degree elbow side, connect your two 10″ pipe pieces.  Finish the 10″ pieces with an end-cap, and the 7″ pipes with another 45-degree elbow and then an end-cap.  You will have built a shape like this: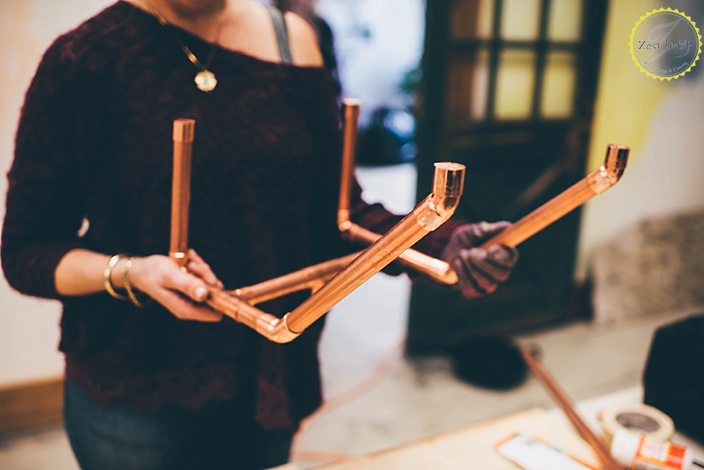 The last assembly step before heading outside is to attach the long upright piece that connects to the very first T-connector at the base of this little creation.  Again, this piece can be cut however long you desire, only dependent on how tall you want your hose storage to stand.  I opted for about 4′, which allowed for part of it to be buried below the surface a bit when installed.  Time to head outside and prepare my site!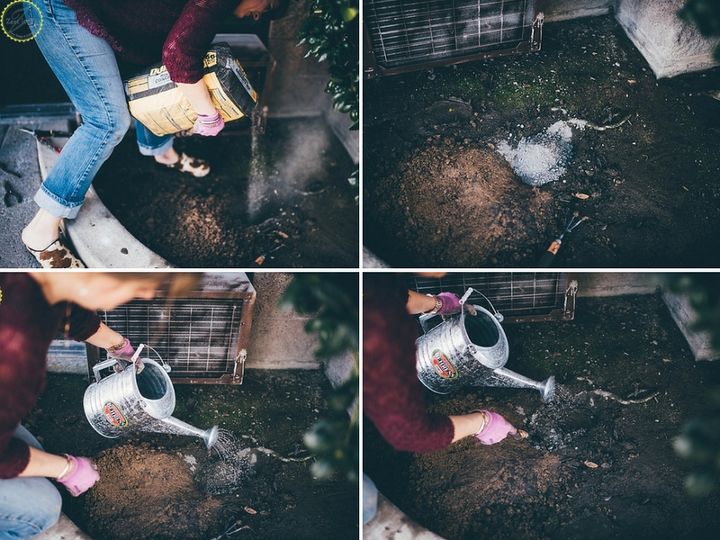 Begin by digging a hole in the location you desire for your hose storage.  I went down about a 1 1/2′.  Then, grab your bag of Quikrete and filler up! Since Quikrete only needs water to set, I watered the mix and gave it a good stir.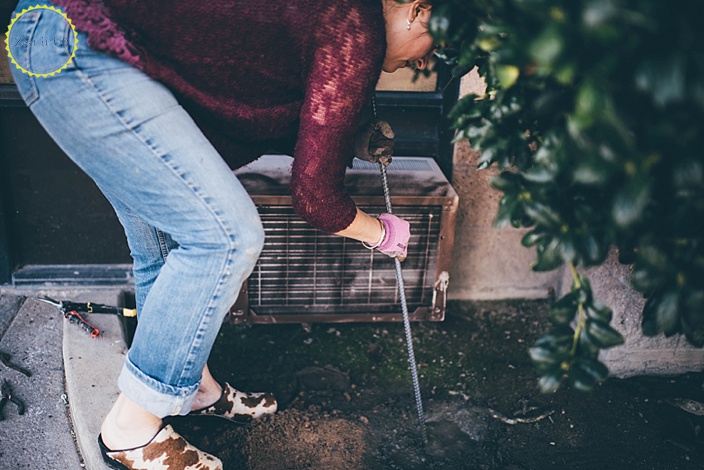 Now, grab your piece of rebar and jab it down into your mixed Quikrete.  I wound up grabbing my hammer to give it a few good wacks, just to get it nice and secure.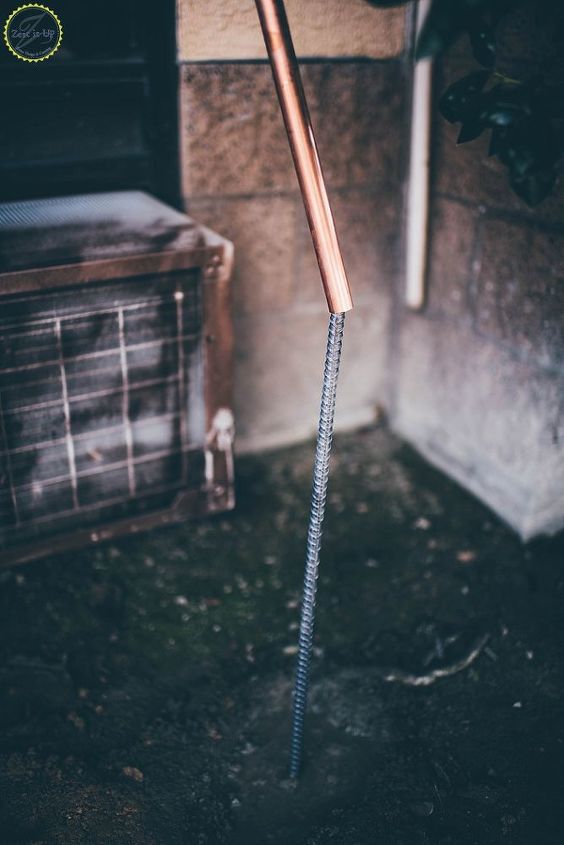 With the rebar set in about 12″ into the Quikrete, it is time to grab the copper stand.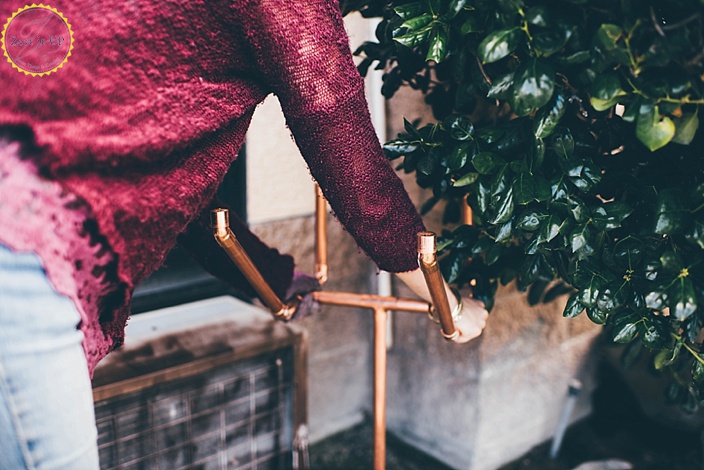 Simply slide the copper base over the rebar and push it deep down into the Quikrete.  The very last step is to let the Quikrete "set" overnight.  You want things cured and solid before covering the Quikrete with garden soil.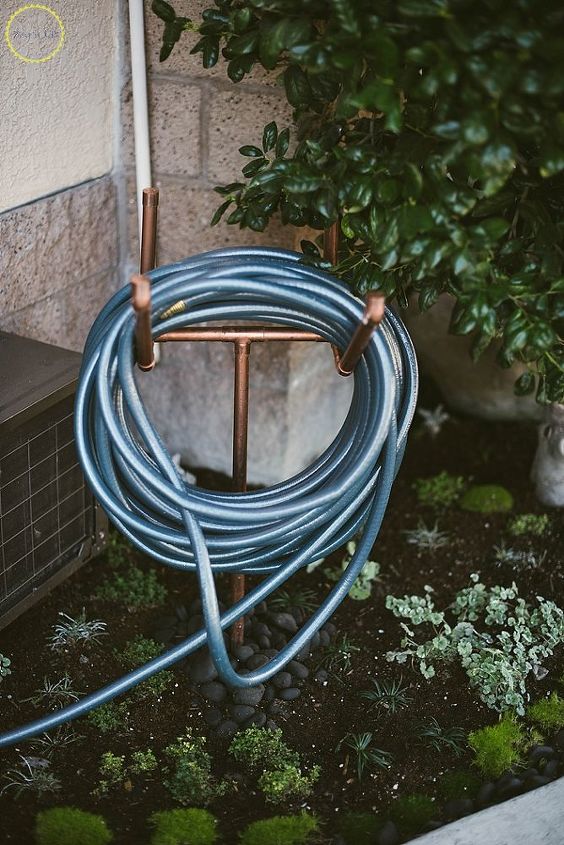 Not too shabby, if ya ask me!  Goodness, I cannot wait until I start to see some flecks of teal on the weather-exposed copper.  This is going to be so pretty!!  So pretty, and so darn easy! Cheers to functional garden art!!
xoxo,
Chanda